Features
Short History: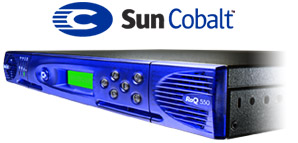 BlueOnyx traces its legacy back to the original Cobalt Networks RaQ server applicances. After the buy-out by Sun Microsystems the Sausalito GUI of the Cobalt RaQ550 and Qube3 got released as open source software. This open source software since then has seen a lot of modifications to both keep it usable on more modern Linux OS's, but also to extend the functionality much beyond what the initial makers had envisioned.
In 2007 we forked the Sausalito code that so far had been maintained by BlueQuartz.org and in 2008 released BlueOnyx 5106R on CentOS 5. Since then versions for CentOS 6 and Scientific Linux 6 (both 32-bit and 64-bit) have followed.
In 2012 we started the development effort to modernize the Sausalito GUI from the ground up. The goal was to present it with a more responsive and fluid modern theme, a host of new features and functions and to modernize the entire architecture for future OS releases. This development effort has resulted in the new Chorizo architecture, which extends Sausalito with new capabilities to make it ready for the next +15 years of usage. The first Beta release of BlueOnyx with the new Chorizo GUI had been released on 16th July 2014 (BlueOnyx 5207R/5208R) and since then went through it's own journey of updates and enhancements. We recently retired support for all BlueOnyx versions that were still using the old GUI and released YUM updates that upgrade them to the latest versions with the new GUI.
In the years that followed continued improvement went into our code tree and we prepared it for newer OS's. Subsequently BlueOnyx 5209R for CentOS 7 was released in February of 2015 and it was recently followed by the latest version of BlueOnyx: BlueOnyx 5210R for CentOS 8, which was released in October 2019. However, due to RedHat's betrayal of the community BlueOnyx 5210R is also available for RHEL8 clones such as AlmaLinux and RockyLinux. Since November 2021 we're developing BlueOnyx 5211R for RHEL9, AlmaLinux 9 and RockyLinux 9. In November 2022 we were able to release this latest version, called BlueOnyx 5211R.
The feature summary below outlines the key features for BlueOnyx.
BlueOnyx 52XXR Features:

Provides an enterprise Linux with control panel for virtual hosting on RHEL9, RHEL8 and RHEL7 clones such as AlmaLinux, RockyLinux or CentOS 7 (not 'CentOS Stream')
Optional Two-Factor-Auth (2FA) for SSH (BlueOnyx 5211R, BlueOnyx 5210R and BlueOnyx 5209R)
Postfix or Sendmail as MTA. Can be changed at any time. (BlueOnyx 5211R, BlueOnyx 5210R - all older versions use Sendmail)
OpenDKIM integration (BlueOnyx 5211R, BlueOnyx 5210R)
Mbox or Maildir format for mailboxes. (BlueOnyx 5211R, BlueOnyx 5210R - all older versions use Mbox format by default)
Server Name Indication (SNI) for email (in Postfix and Dovecot) - in BlueOnyx 5211R and BlueOnyx 5210R.
Optional Chrooted Jails with SFTP or SSH access (BlueOnyx 5211R and BlueOnyx 5210R)
IPv4, IPv6 and dual-stack support (BlueOnyx 5209R or newer)
CalDAV/CardDAV integration (BlueOnyx 5210R and BlueOnyx 5211R)
Easy to install via provided ISO images.
Includes preconfigured Apache, ProFTPd, Sendmail, Dovecot, MySQL/MariaDB, Mailman and more.
Optional Nginx SSL proxy for HTTP/2 and TLSv1.3 support included. (BlueOnyx 5209R or newer)
Modern GUI interface with multiple access control levels to administer all aspects.
GDPR (EU-DSGVO) tools included to help to comply with EU regulations.
Reseller management to allow resellers to create virtual sites and users.
Ability to host an unlimited amount of virtual sites, mailing lists and users.
Each reseller, site admin and end user has its own GUI access to manage his services.
Net2FTP integration that allows your users to manage file transactions and uploads via the GUI.
Docker integration via the GUI (BlueOnyx 5209R or newer)
Brute Force Login detection and prevention mechanisms (pam_abl).
PHP implemented to mod_php and suPHP (also PHP+mod_ruid2 and PHP-FPM on 5209R or newer). You can choose which one is available to resellers and sites.
Ability to have sites use multiple different PHP versions (via suPHP and PHP-FPM - BlueOnyx 5209R or newer).
Ability to run Perl scripts and SSI.
GUI to install and manage SSL certificates and intermediate certificates.
HTTP/2 support (5209R or newer via built in Nginx SSL-Proxy)
Per Vsite HSTS (5209R or newer via built in Nginx SSL-Proxy)
Ability to host multiple virtual sites with SSL certificates on the same IP-address.
Ability to generate and auto-renew free Let's Encrypt! SSL certificates (5207R, 5208R and 5209R).
Ability to automatically create and manage MySQL databases for virtual sites.
Ability to automatically generate DNS records for virtual sites.
Wizard for the generation of SPF text records for DNS.
Ability to host AAAA (IPv6) DNS forward records.
Vacation messages can be managed individually for each user.
Ability to import/export emails for each user via Imapsync.
Very detailed email statistics via a modified Sendmail-Analyzer.
Built in Webalizer for detailed web based traffic analysis.
Subdomain management.
JSP support already built in with an improved GUI.
GUI to modify SSHd settings, to generate and manage SSH keys and certificates.
"Site Prefix" that allows to prefix usernames with a 5 character string.
GUI available in English, German, Danish, French, Spanish, Italian, Dutch, Portuguese and Japanese.
Built in support ticket and bug reporting mechanism.
Both free and paid support are available (in English, German and Spanish languages).
Optional free and commercial third party modules are available via built in interface.
Updates are delivered via YUM (OS and GUI related updates) and NewLinQ (for add-ons).
Very active user base with self-help provided via mailing list.
Migrating from BlueQuartz to BlueOnyx (and back) is possible through the included CMU (Cobalt Migration Utility).
BlueOnyx server tally:
Below you can see a tally of how many BlueOnyx are running worldwide. These numbers are based on automated YUM update usage counts. It therefore may not be entirely accurate.
Estimated total BlueOnyx servers: 47324