YUM updates
Updates for BlueOnyx were released today and are now available through YUM.
The following updates for BlueOnyx were released today and are now available through YUM:

==========
 Package  
==========

Updating:
 5106R-cmu
 blueonyx-yumconf
 base-apache-capstone
 base-apache-glue
 base-apache-locale-da_DK
 base-apache-locale-de_DE
 base-apache-locale-en
 base-apache-locale-ja
 base-apache-ui

Transaction Summary
============================
Install      0 Package(s)
Update       9 Package(s)
Remove       0 Package(s)


These package addresses the following issues:
5106R-CMU:
This RPM installs CMU 2.81-0BX01 and should - finally - wrap up the issues that we had with this RPM during the last two weeks.
The BlueQuartz PKG (it's really only needed on BlueQuartz - not BlueOnyx!) is available here.
Please note: Starting with version number 2.81 this PKG also installs an RPM that ties your server into a special YUM repository for future CMU updates. That YUM repository will only contain updated CMU versions for BlueQuartz and nothing else.

blueonyx-yumconf:
This RPM contains the BlueOnyx YUM repository config file. Starting with this version number it also contains /etc/yum.repos.d/0_WARNING.txt, which includes prominent warnings that discourage usage of third party YUM repositories such as RPMforge.

base-apache:
The GUI page for "Server Management" / "Network Services" / "Web" has been updated with new features: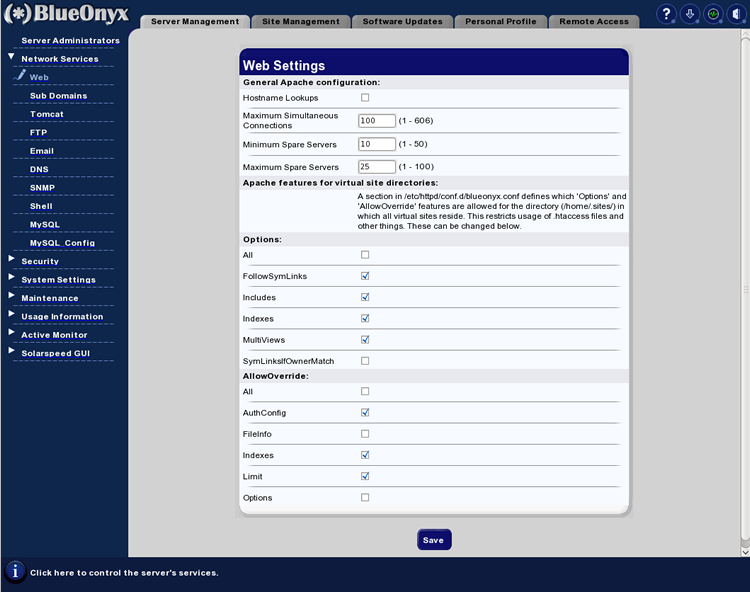 With those it is now possible to configure the Apache config file /etc/httpd/conf.d/blueonyx.conf to furter define which Apache Options and AllowOverride directives are valid for the directory /home/.sites.
Typically .htaccess files in /web directories are prohibited for security reasons, as these can be used to re-define or override certain Apache configurational settings. To allow .htaccess files in general one would use the new GUI and would tick the box for "AllowOverride" / "All".
If you already modified your blueonyx.conf file by hand: Don't worry. Existing modifications will be imported.
← Return
General